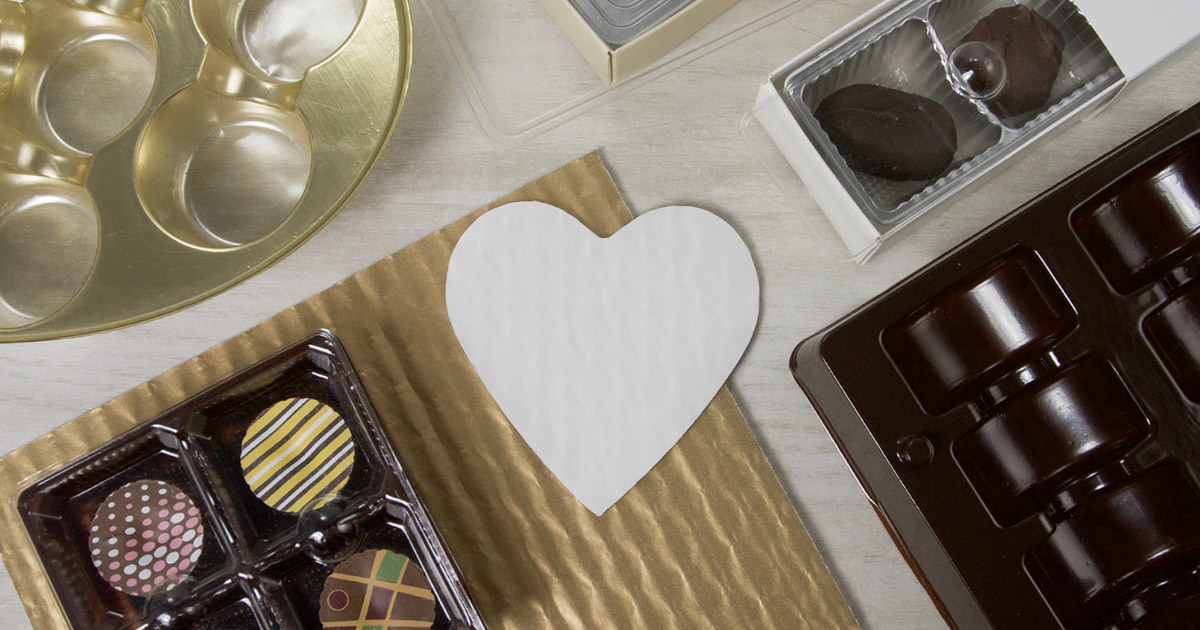 Posted by aspecialtybox.com on 1/31/2023 to
Getting your precious caramels, nougats, macarons, and wine-shaped—yes, we said wine-shaped!—candy boxes from the sleek displays and into your customers' tummies is a trickier business than it looks.
With chocolates and goodies of all shapes, sizes, and quantities, the need for high-quality, customized packaging is about as fierce as the burning desire for cacao itself.
Selecting the right packaging insert trays for your specialty boxes to secure your treats and ensure safe transport and storage is an important task that could help solidify or completely melt your company's reputation.
What Are Packaging Insert Trays?
Packaging insert trays neatly keep truffles, chocolate hearts, macarons, and other sweet treats in place, protected, and displayed en route from the store and into customers' bellies.
Packaging insert trays neatly keep truffles, chocolate hearts, macarons, and other sweet treats in place, protected, and displayed en route from the store and into customers' bellies.
Compared to the gorgeously wrapped goodies, these trays might seem like a trivial component—immediately tossed in the recycling bin after the recipient excitedly opens the box.
However, they are the piece that keeps candies looking beautiful and safe from being crushed or jostled in transit.
After sliding off the glossy gift box or popping off its festive top, this sheer, plastic layer envelops candies with form-fitting cushioning—from circular and square to rectangular and macaron-shaped cavities.
With the help of the extra buffering and protection from candy pads and tray guards, these custom-fit trays cradle sweets so they look the way you intended when they finally reach a loved one's hands.
Shopping for Trays? Here's What to Consider
From color palette to cavity quantity, there are a number of factors to consider when shopping around for packaging insert trays.
Here are the top three:
1. Quality
At the end of the day, smart packaging enhances your product. The wrong tray leaves candies prone to damage, cracks, breaks, and all-around not looking the way you've painstakingly intended.

Packaging providers that use durable materials, source sustainably, and put care into their work ensure your chosen trays not only protect valuable goodies, but enhance your brand.
2. Buying Alongside Packaging
Coupled with quality, perhaps the most important consideration is to shop for insert trays while picking out your

candy padding

,

tray guards

, and other packaging.
Most intuitively, this ensures your design, colors, and sizes work well together. In fact, some tray guards are actually offered with certain trays by default. Additionally, candy pads come in a vast array of colors and shapes—creating equally vast possibilities for aesthetic combinations.



Another reason: Getting a practical gauge of just how many items you'll need enables you to buy in bulk—and save money.
3. Price
With the right provider, you can obtain quality without paying an arm and a leg.
For a 50-tray order, you can specify if you'd like 10 to 39 units, 40 to 99, or more than 100. The total cost per tray decreases as you buy more!
4. Contents
Last—and certainly not least—consider the contents of your box when shopping for inserts.

All of these considerations count, as your boxes' contents dictate such details as cavity shape and quantity, design, and more.
Types of Packaging Insert Trays
Whether packed with creamy caramels or chocolate pretzels, today's assortment of packaging insert trays is made with variety in mind.
Trays tend to fall into these basic categories:
Cake Ball & Truffle Trays
Decadent truffles and dipped cake balls will find their homes here—packed behind clear, round-cavitied layers and backed by either that, or an attention-grabbing gold base.
This selection comes in four- to 15-cavity options, with some domed or artisan varieties for specialty treats.
Square Candy & Novelty Chocolate Trays
From clear and classic to unique and fun, these inserts protect your precious cargo—whether novelty assorted chocolates, meaningful messages scrawled on a dark chocolate slab, or a quirky surprise for a wine lover.
This versatile packaging ranges as much in style as cavities—with single-, five-, and 15-cavity options, among others, of myriad shapes and sizes.
Macaron Trays
Macarons are somewhat the French cookie equivalent to a box of chocolates. From vanilla and pistachio to caramel and cookie dough, the color alone is really the only clue before your first bite to guessing the flavor.
They're also an equally sweet treat to gift.
From a quaint, nine- to a plentiful 18-cavity box, your delicate cookies will be safe on the way into your loved one's hands—and tummy!
Heart Trays
Keeping this classic Valentine's Day gift in tip top shape through dinner, drinks, and maybe some iced skating calls for top-of-the-line heart trays—gold- and chocolate-tinged inserts perfectly molded to the fabric, paper, or foil heart-shaped box of your choosing.
Available in six-, 27-, and 55-cavity varieties, among others, these layers enable your candies to make memorable, heart-warming impressions.
Relying on an Experienced Packaging Provider
To help your goodies look the way you want them to from store shelves into customers' hands, rely on packaging that not only keeps them safe, but amplifies your messaging.
aspecialtybox.com carries a wide variety of trays for purchase—all made with care and sustainability as top priorities.
Partner with a packaging provider that ensures your treats are displayed beautifully and reflective of your hard work, every time.
An Oliver Inc. company, aspecialtybox.com manufactures and distributes memorable packaging for the confectionery, gourmet food, and gift industries. To weigh your packaging insert tray options and select the right one for you, contact us today.
TOP