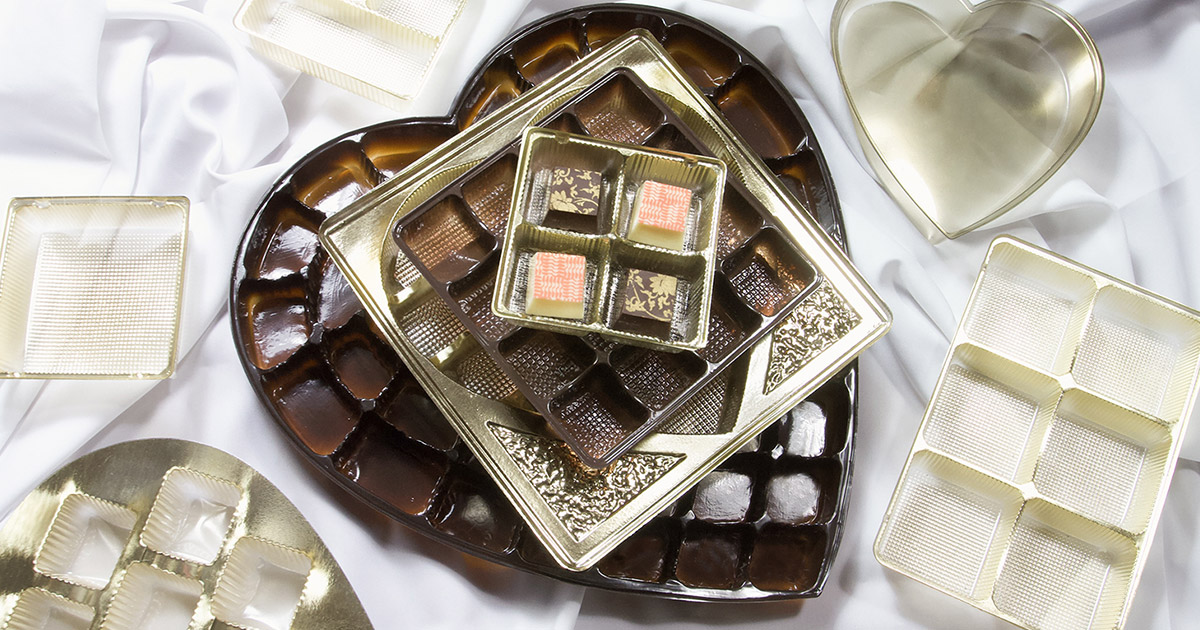 Posted by aspecialtybox.com on 1/17/2023 to
When Richard Cadbury experimented with selling boxes of chocolate on Valentine's Day in 1861, the English chocolatier forever revolutionized gift-giving.
On anniversaries, Valentine's Day, or honestly any other holidays or special occasion—nothing says "I love you" like a box of decadent chocolates, perfectly situated in a glossy red box, waiting to get cracked open.
Molded to each square- and heart-shaped box, the tray inside serves multiple purposes: cradling, protecting, and securing its contents to not only ensure safe transportation and storage, but impress and amaze recipients with style and pizzazz!
What Are Chocolate Trays?
These hold every precious nugget of chocolate divinity within their respective velvet, foil-stamped or embossed boxes, safeguarding and showcasing them along their voyage from kitchen or display shelf to customers' homes, romantic dinners, or a gift bag.
While these customized plastic trays are important for most candy boxes, they are essential for chocolates.
Milky dark, white, orange, and classic chocolates are, simply put, more delicate than other candies. With creamy fillings, caramel truffle crumbles, or crushed cherries inside, chocolates are more prone to breaking, cracking, or scuffs.
Who wants that? Nobody.
While jostling is inevitable when customers slide boxes of chocolates across the check-out counter and out of the store, compromising the perfect look of your product doesn't have to be.
With the help of added cushioning and protection from candy padding and tray guards, customized trays safeguard chocolates and keep them looking as you envisioned—all the way from store shelves into loved ones' hands.
Considerations When Purchasing Chocolate Trays
The variety of tray options is as vast as the flavor combinations within a box of chocolates.
When selecting the right tray for you, we recommend keeping the following factors in mind:
Cavity Count
Begin by determining the number of chocolates each box will hold.
Are you looking to package nine decadent truffles, packed with mousse and coconut, or are you looking for more classic packaging for a variety of 16 assorted chocolates?
From tiny, four-cavity trays to more spacious, 16-cavity ones, understanding the quantity of nougats, caramel pralines, or fruity chocolates that will be in your box helps inform how many cavities are needed.
It's also best practice to determine the overall quantity of trays you'll need, and buy those in bulk to save on costs.
Quality
The old saying of "quality over quantity" is less applicable here as it might be in other cases, as tray quality is just as important as quantity.
Selecting a packaging provider that utilizes durable, high-quality materials helps enhance your brand and ensure your investment goes a long way.
Color & Aesthetics
From holiday white chocolate bark squares cradled in dainty, brown packaging to truffles in gold-backed trays, the right color and aesthetic showcasing your delicious sweets draw the eyes.
When selecting which silver, gold, dark brown, or clear options pair best with your festive, novelty, and decorative boxes, we recommend buying both together for seamless cohesion.
Experienced Packaging Providers for Your Chocolate Tray Needs
As you're shopping the multitude of tray options on the market, it also pays to find a provider you trust and would consider partnering with again in the future.
Not only does this save you money—through special offers, discounts, and greater efficiencies over time—but relying on an experienced provider helps impactfully communicate your brand, every time.
aspecialtybox.com provides custom truffle-, square-, and heart-shaped chocolate trays of varying sizes and colors, utilizing the highest-quality materials and placing sustainability at the forefront.
Through exceptional packaging, we empower you to showcase your chocolates—and your brand—the way you intended, and make a lasting impression.
aspecialtybox.com is an Oliver Inc. company that manufactures and distributes memorable packaging for confectionery, gourmet food, and gift industries. Contact us today to discover the right chocolate tray for you.
TOP