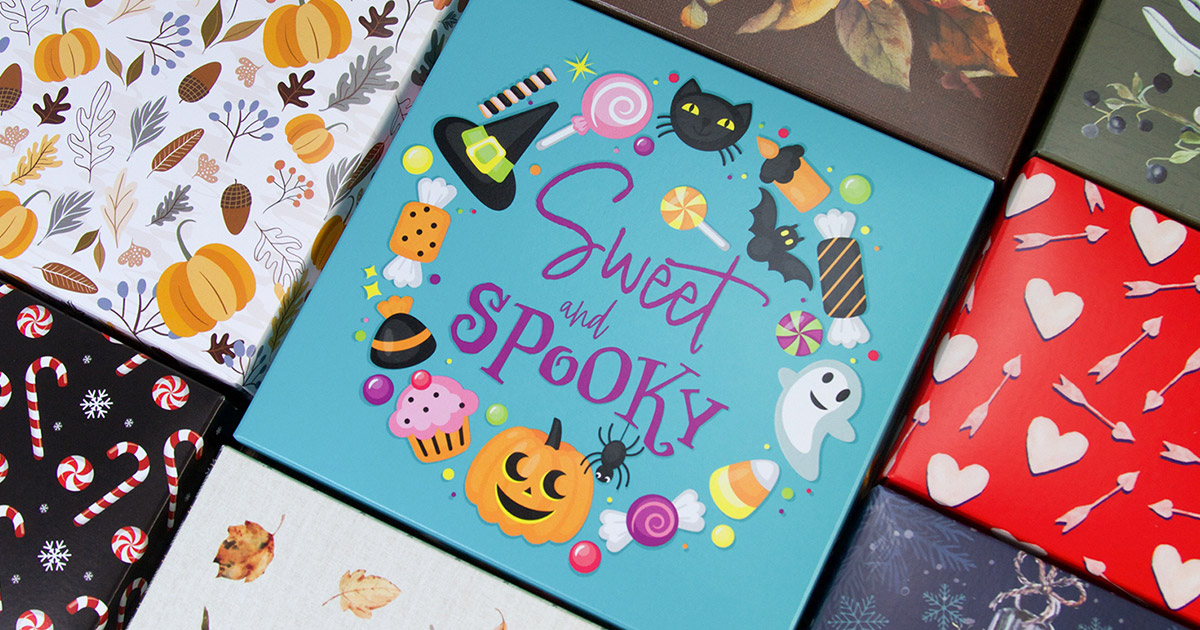 When you think of festive packaging, do crimson red and green boxes donned with holiday trees or snowmen come to mind?
While targeted packaging is a festive way to spread cheer throughout the winter season, it's not just for Christmas anymore.
From Halloween advent calendars and Valentine's Day heart boxes to decorative Fourth of July containers and even witty gift boxes for National Chocolate Day, targeting packaging enables you to "wow" customers year-round.
By customizing for upcoming holidays, considering re-use and utility, shopping for sustainable options, and engaging prospects with your brand, you can create a novel, festive experience that makes a meaningful impression.
Here are several key tips to help you select the right targeted packaging so you can reap its benefits all year long.
Tips for Choosing the Right Targeted Packaging
Customize for Upcoming Holidays
It's never too early to begin preparing for the holidays—and that doesn't mean Christmas, alone.
To ensure your orders are ready in time, start getting ready one season in advance.
For example, if you're ordering some spooktacular coffin favor boxes or haunted house advent calendars this Halloween, compare options starting in June or July so you can order them by the end of summer.
Don't be afraid to get creative!
Consider how your delectable treats would look nestled in multicolored eggs for Easter, or patriotic, flag boxes for Veterans' Day. Outside conventional holidays, consider placing them in wine-shaped boxes for National Wine Day or back to school-themed ones.
Whether for traditional or off-beat occasions, there is no limit to the creativity possible when you customize your offerings for the holiday season.
Consider Re-Use & Utility
High-quality packaging prolongs the excitement of the gift giving experience, even after it's finished.
Not only will your customers remember the positive feelings they had while unboxing your products, but some might even save boxes to wrap future gifts or decorate the house.
This presents a huge opportunity for your brand to be part of their positive memories!
Whether advent calendars for National Dog Day or shimmering, gold boxes on New Year's Eve, quality packaging goes beyond the initial "wow" factor to become a fixture for crafting, re-gifting, stylish storage, and so much more!
Shop Sustainable Options
According to a study from B2B fashion magazine Drapers, nearly two-thirds (64%) of consumers are more likely to purchase from a brand if its packaging is sustainable, and half (49%) would pay more for it.
When choosing the right option, consider companies that prioritize zero waste, mitigate carbon footprint, minimize raw material use, and maximize reuse and recyclability, reads a guide from industry-leading manufacturer Oliver Inc.
Doing so enables you to minimize your own carbon footprint, use fewer toxins than traditional options, save money, and foster brand affinity with eco-conscious prospects.
Engage Customers With Your Brand
It's never been easier to engage with customers—whether directly or indirectly.
As packaging is the first aspect they're likely to notice about your product, it's important to ensure it's reflective of your brand.
In your selections, find creative spots to embed your company name or logo. This draws attention to not only the gorgeous design, but your brand, as well.
Also, consider opportunities for engagement with your pieces, such as foldable train boxes customers can enjoy long after the special occasion, or embedded QR codes that link to a spooky webpage or downloadable, DIY gift list.
Finally, reward anyone posting pictures of your offerings on Instagram and Facebook by re-posting, commenting, or sharing them to your story.
These are all ways to boost engagement andprovide experiences of value for your prospects.
Benefits of Targeted Packaging
Novelty
Compared to wrapping your goodies in plain, brown bags, encasing them in vibrant, holiday boxes provides an element of novelty.
From homemade dog treats peeking through bright, paw-shaped window boxes to flaky macarons displayed in sweet, red containers on Valentine's Day, these specialty options create fresh, exciting experiences for your prospects.
Spread Festive Cheer
Be it Christmas boxes in the shape of Santa's boot or apple-shaped ones for teachers, targeted packaging spreads festive cheer—no matter the occasion.
With seemingly endless options to choose from, getting creative with celebrating the holidays builds positive feelings about not only the season, but your brand, as well.
Make Meaningful Impressions
When you customize for upcoming holidays, consider reusability and sustainability, and provide opportunities for engagement, you deliver a novel, festive experience that makes a lastingimpression.
Gift giving is about more than the present inside. The feelings of joy, happiness, and gratitude are inherent in the unboxing experience—and when you provide quality packaging, your brand will be, too.
Start Preparing for the Next Holiday Today
It's never too early to begin preparing for the next holiday, and as autumn quickly approaches, now is the perfect time to start considering options for Halloween and Thanksgiving.
aspecialtybox.com offers a wide range of festive, novelty pieces for any occasion—from spooky and sweet window boxes to ones for candy apples and harvest treats.
Working with an experienced packaging provider will help you make lasting impressions with the perfect targeted packaging this season, and beyond!
aspecialtybox.com is an Oliver Inc. company that manufactures and distributes unique packaging for the confectionary, gift, and gourmet food industries. To learn more about the right targeted packaging for your brand, contact us today!
TOP