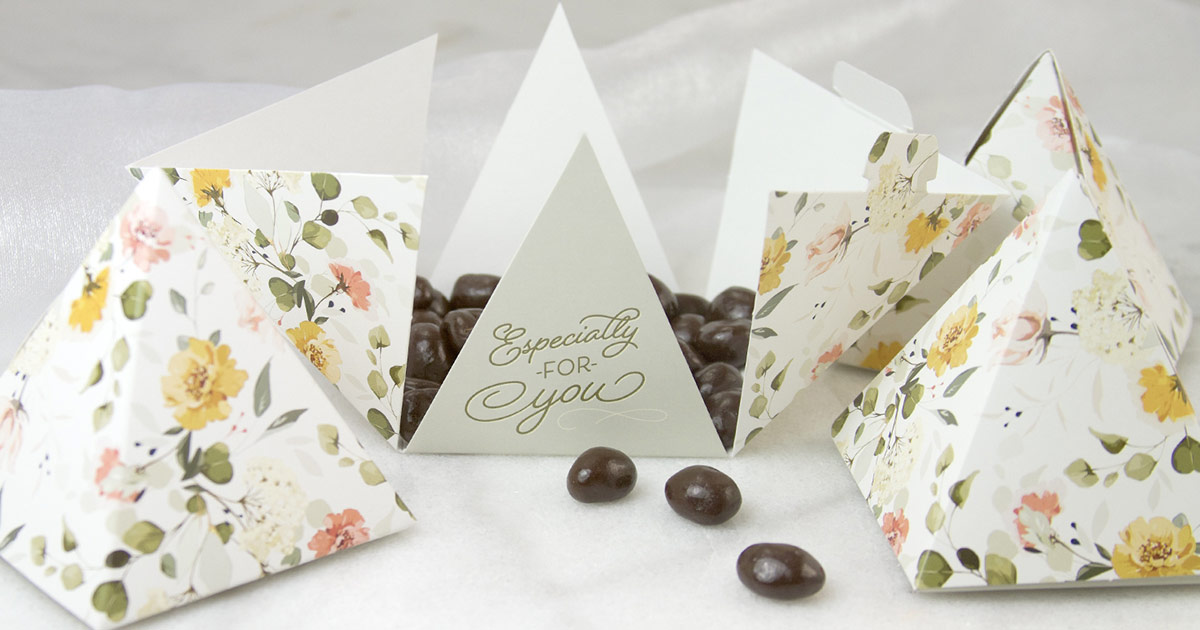 Posted by aspecialitybox.com on 6/21/2023 to
From graduation cap-style gifts containing colorful candies to dazzling heart-shaped cartons full of chocolates for wedding guests, festive favor boxes are thoughtful ways to convey creativity and an element of surprise while making lasting impressions.
With so many colors, styles, and themes to choose from, these decorative containers are the perfect way to commemorate any occasion.
Let's unwrap the basics of favor boxes and share some inspiration for different ways they can be used to delight guests at a wide range of special events.
What Are Favor Boxes?
Favor boxes are folded cartons or pre-assembled containers—also called "set-up boxes"—housing special treats for attendees of parties or other special occasions.
From festive beads and masks celebrating Mardi Gras to monogrammed chocolate wedding favors—goodies and other gifts packaged inside unique, themed boxes showcase your creativity while building excitement and demonstrating thoughtfulness.
What Favor Boxes Offer
While they might seem minor sidenotes in the grand schemes of major life events, favor boxes certainly do not go unnoticed by guests—in fact, their impressions last long into the future.
Creativity
A great party often demands a clever theme. Perhaps a wedding highlights classic Hollywood, with black-and-gold art deco details, or a graduation party features balloons and tablecloths in the school's banner colors.
Favor boxes feature a vast spectrum of decorative effects, colors, themes, shapes, and sizes with custom designs to accentuate and elevate any event or special occasion.
Surprise & Anticipation
Similar to the excitement of opening a birthday present or holiday gift, favor boxes foster a sense of surprise and anticipation as guests unbox their unique mementos. They stir the imagination, and evoke both joy and intrigue.
Personalization
Managing a party or event requires a lot of attention to detail, and time can quickly fly by in what feels like an instant as you're overseeing food deliveries and the thousand or so other necessary tasks to ensure everything is just perfect. Unfortunately, this may make one-on-one conversations with every attendee simply impossible.
Favor boxes convey personalized attention, thoughtfulness, and appreciation toward each and every guest. Hand-selecting the goodies and choosing the overall packaging enables you to tangibly express just how much everyone means to you—and they'll cherish this.
Lasting Impressions
Even after the party's long over, guests have your favor boxes to remind them of the joy and excitement of the gathering and the special moments shared. They'll look back on it as a happy event full of fun and good cheers every time they use or view your precious gift.
It's not uncommon for people to hold onto packaging they enjoy—either to reuse, as a keepsake, or to house other items holding special places in their hearts.
Uses for Favor Boxes
Whether adorned with sprinkles for a birthday or pastel flowers to celebrate a baby shower, there are myriad decorative effects and occasions ideal for favor boxes. Here are several ideas:
Here's a brief rundown of several popular events for these special keepsakes:
Weddings
Whether tiny bottles of bubbles and champagne, or miniature plants, wedding favors go a long way in helping guests feel valued on the big day, and fondly recall all those priceless moments.
White favor boxes go the extra mile to remind family and friends of the happiness and joy of the bride and groom's special union and new life together.
Parties
Halloween Festivities
With candy the focus of this spooky holiday, favor boxes enable you to have a little fun with its spirit of giving.
Awarding prizes for best costumes with coffin-shaped or spider web-strewn favor boxes, for example, keeps the night's intrigue alive.
Holiday Gatherings
The holidays present great opportunities to exchange gifts and spend with family and friends, but sometimes the hustle and bustle of planning, cooking, and other obligations can take away from time meant for shopping.
Festive crimson favor boxes full of small, memorable trinkets, holiday cookies, and more are great ways to cover everyone on your list while keeping things easy and affordable—so you can ultimately spend more time together.
Birthday Parties
Favor boxes take the excitement of treat bags a bit further. Colorful or confetti-themed boxes containing toys, games, and candies help ensure every child there feels like it's their birthday, too.
Special Occasions
Whether decadent truffles at a Valentine's Day dance or sentimental mementos at a 30th anniversary party, packaging your goodies inside a windowed or magnetic favor box helps make your special day that much more memorable.
Unboxing Something Special
Themed favor boxes elevate the excitement and splendor of party favors to unforgettable heights—sharing so much more than just the goodies inside.
aspecialtybox.com provides a wide variety of high-quality favor box options to help you make a lasting impression, no matter the occasion.
Whether packaging party favors for 10 guests, 100, or more, we partner with you to help choose the perfect favor boxes, decorative effects, goodies, and more to ensure your guests remember your event and forge lasting memories far into the future.
aspecialtybox.com is an Oliver Inc. company manufacturing and distributing unique packaging for the gift, confectionary, and gourmet food industries. Contact us today to learn more about choosing the perfect favor boxes for your special event.
TOP